Forty-five days ago, we turned off the lights, set the alarm, and departed the gallery – not knowing exactly when we'd return.  Ever since, we have been seeking how to best keep in touch.  If your Inbox is anything like ours, you can see that galleries are trying to stay connected in this new reality in which none of us get to do what we love most – mounting exhibitions, sharing our passion for the works on view, and having in-person conversations with our clients and collectors.
 
We are all in good health – something none of us take for granted – and to any of you who have not been so fortunate, please know that our thoughts are very much with you.
 
The project that is occupying our time and giving us the most joy is going through the nearly 70,000 photographs that Sidney Felsen, the co-founder of Gemini GEL, has taken since the mid-1960s.  As announced in September last year, the majority of the photographs will enter the Getty Research Institute, while a smaller selection will become part of the Getty Museum's photography collection.  Our review of these photos, which also includes an extensive collection of Polaroids and snapshots, has brought up many happy memories.  We plan on continuing to share our discoveries with you – we hope you will find them entertaining, and when the time is right again to think of adding to your collection, we hope they will also be informative and inspirational.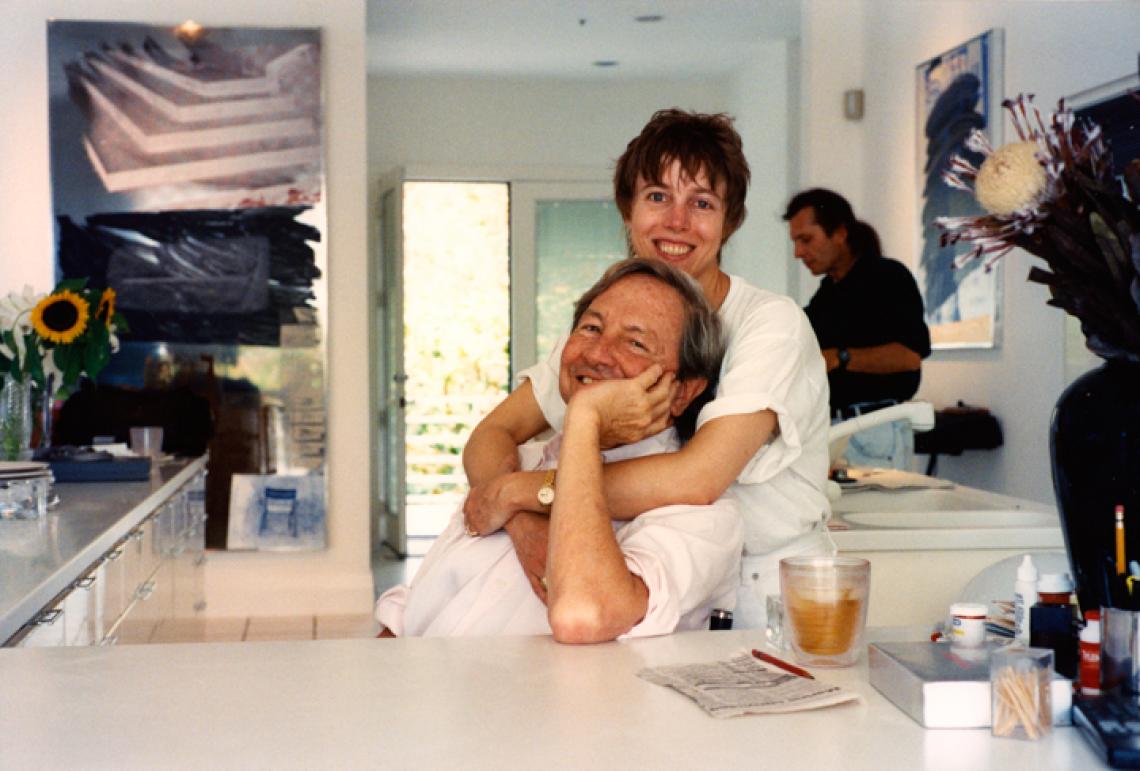 Double R
 
Like all things at Gemini, it seems appropriate to begin with Robert Rauschenberg.  He is credited with "setting the tone" of the workshop in the early days, and his friendships within the artworld lasted a lifetime.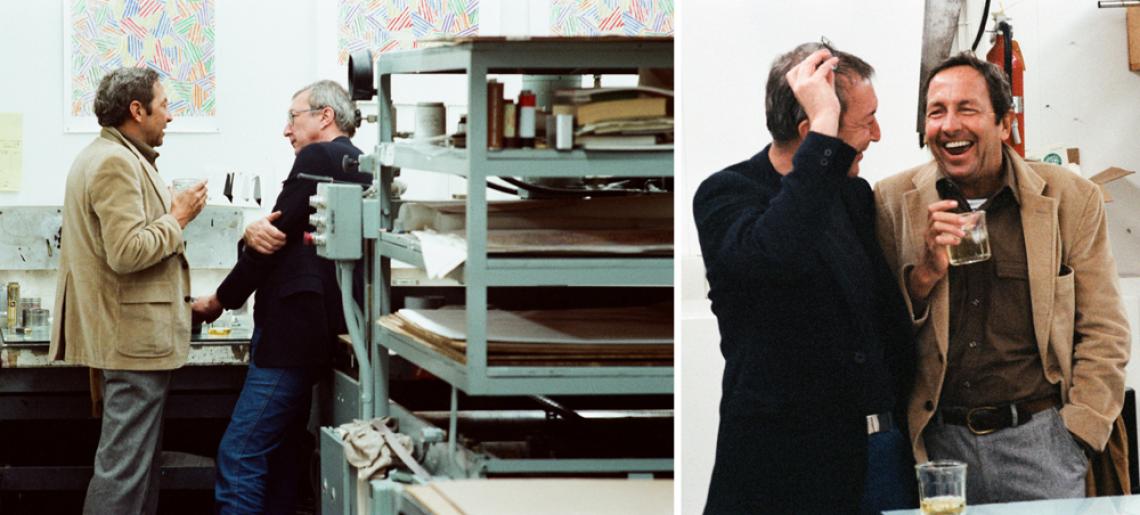 with Jasper Johns, in the Gemini G.E.L. workshop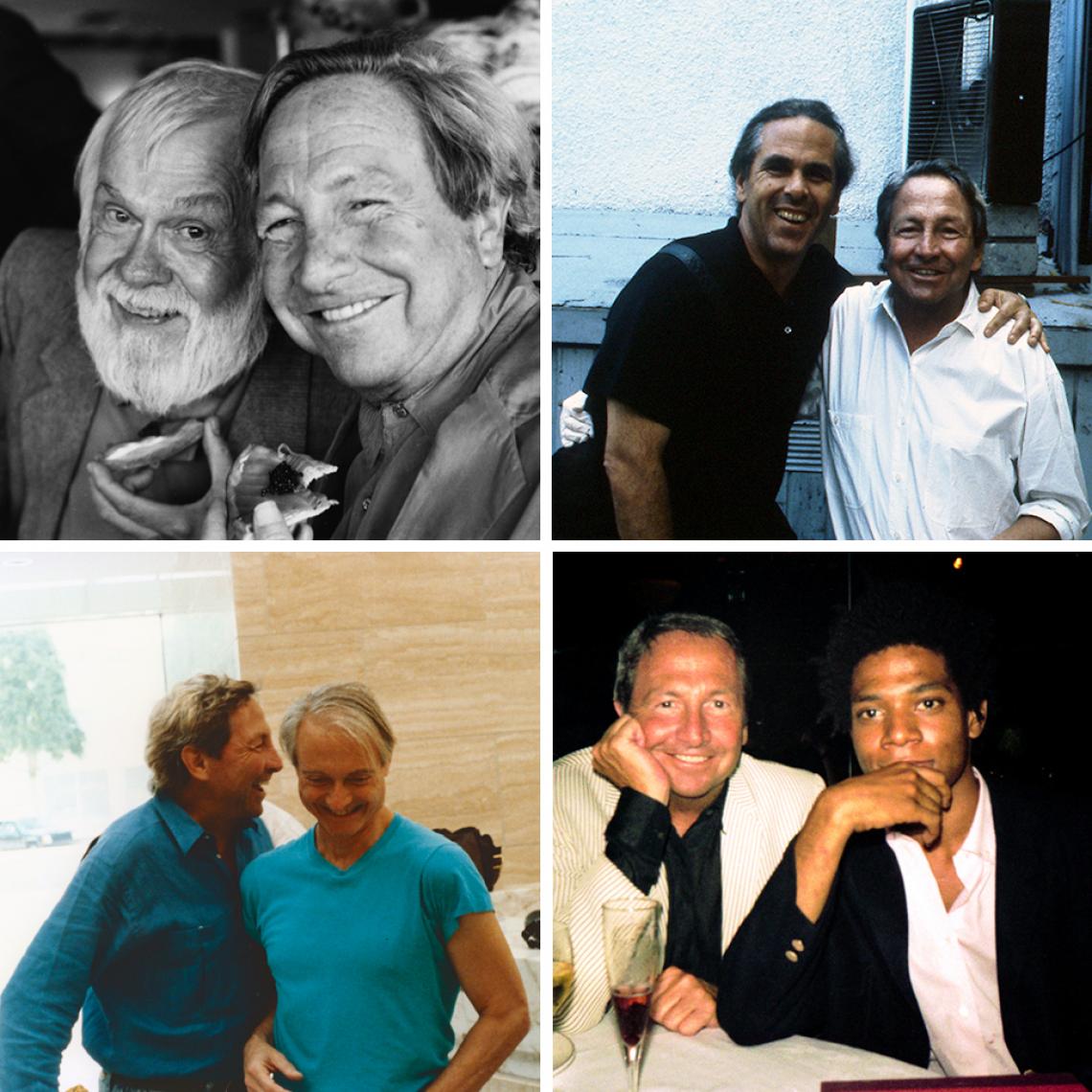 top-to-bottom, left-to-right: with John Baldessari, Jonathan Borofsky, Roy Lichtenstein, Jean-Michel Basquiat
For Joni, who came to Gemini Los Angeles in the autumn of 1977 as a Stanford-educated art history graduate, Rauschenberg's Romances had just been published and were ever-present on the walls. But her friendship with Bob really began in April 1979, when she witnessed a week of 24-hour proofing sessions for Rookery Mounds. Joni juggled working all day at her desk, and hanging around in the litho studio into the wee hours of the night, wanting to be a part of the energy and excitement of a full-on proofing session. Bob truly loved his printers, and his connections with those young and supremely talented printmakers would become a nourishing, symbiotic bond throughout his career.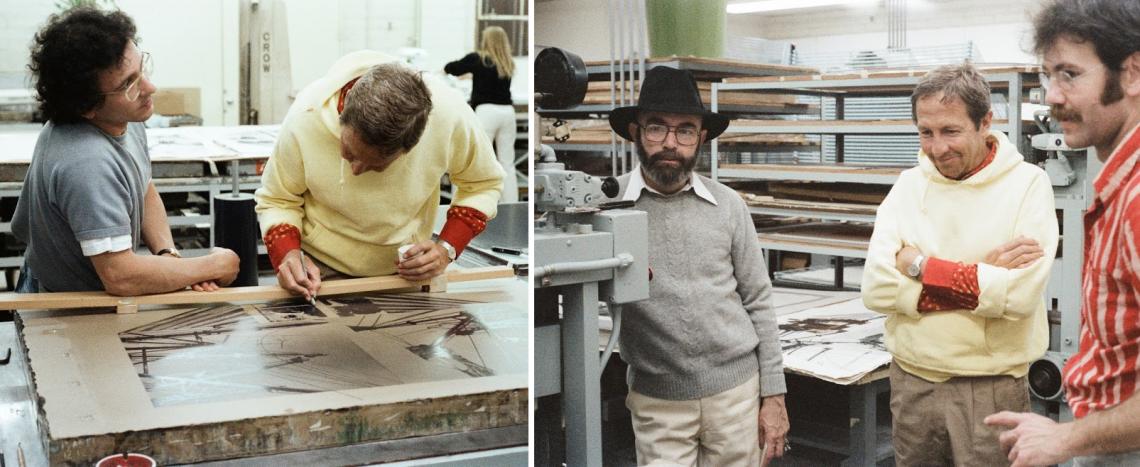 The publishing of Rookery Mounds was a momentous occasion for many reasons.  The prints marked Rauschenberg's first use of his own photographs in a Gemini printmaking project, and, having just received the prestigious Grand Prix d'Honneur at the Ljubljana Biennial of Graphic Arts, the series made its domestic debut on December 8, 1979, at Castelli Graphics, New York.  It would be Joni's first-ever trip to Manhattan, and her first (of what would become many) business trips in celebration of a Gemini artist's accomplishments.  It also began her love-affair with New York, eventually leading to the establishment of our gallery in 1984.
 
Many of the images featured in Rookery Mounds were taken by Bob on his beloved Captiva Island, where his house faced the Gulf of Mexico.  On Captiva, Bob was either always working or cooking, but first there was fish to catch.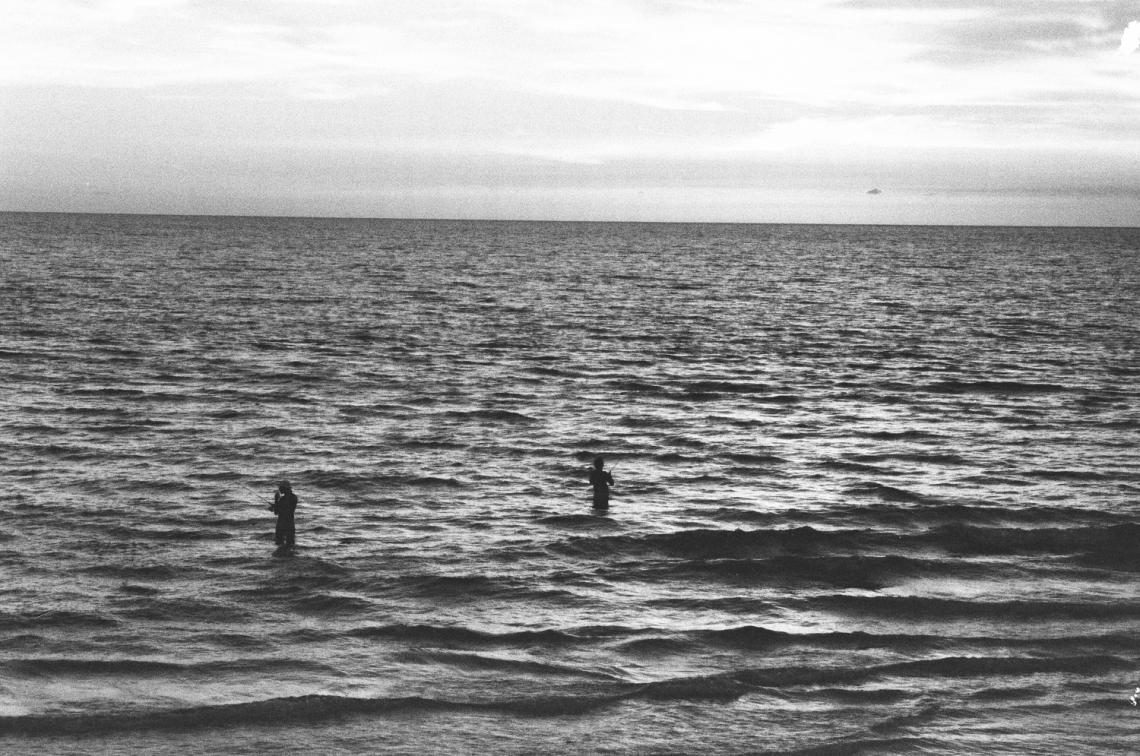 Fishing was always a favorite pastime – his earliest days of working at Gemini were often punctuated with a Felsen family trip to Malibu Pier, where Bob and Sidney's daughter, Suzanne always caught the most fish.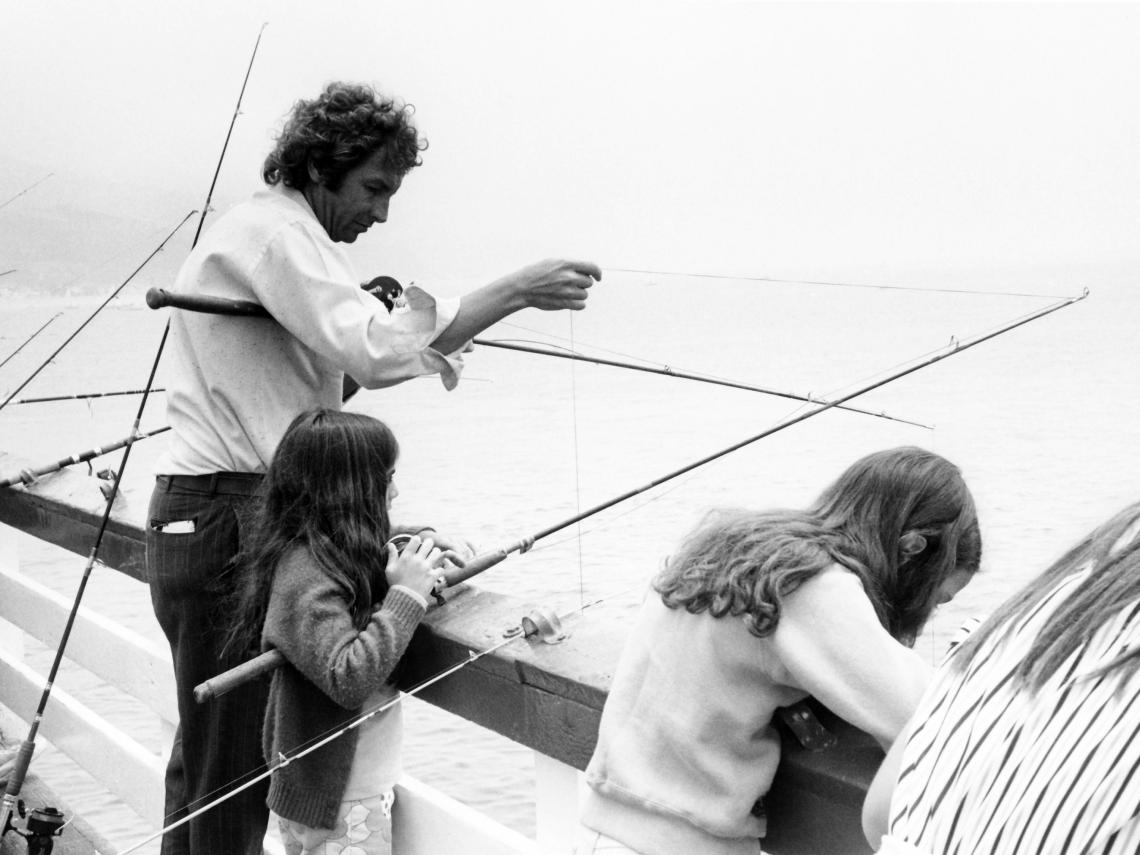 Bob loved Hollywood, and Hollywood loved Bob.  Dustin Hoffman regularly would visit; he'd first stop in Joni's office, sit in her guest chair and tease her mercilessly, then spend hours in the shop simply hanging around.  At a party hosted by Norman Lear,  Bob was introduced to Gregory Peck, who politely asked if it might be possible to visit the workshop.  The next day, "Greg" appeared, spending the entire day at Gemini with Bob, watching as he painted the panels for his Borealis Shares, both men nursing their glass of Jack Daniels on ice throughout the hot summer day.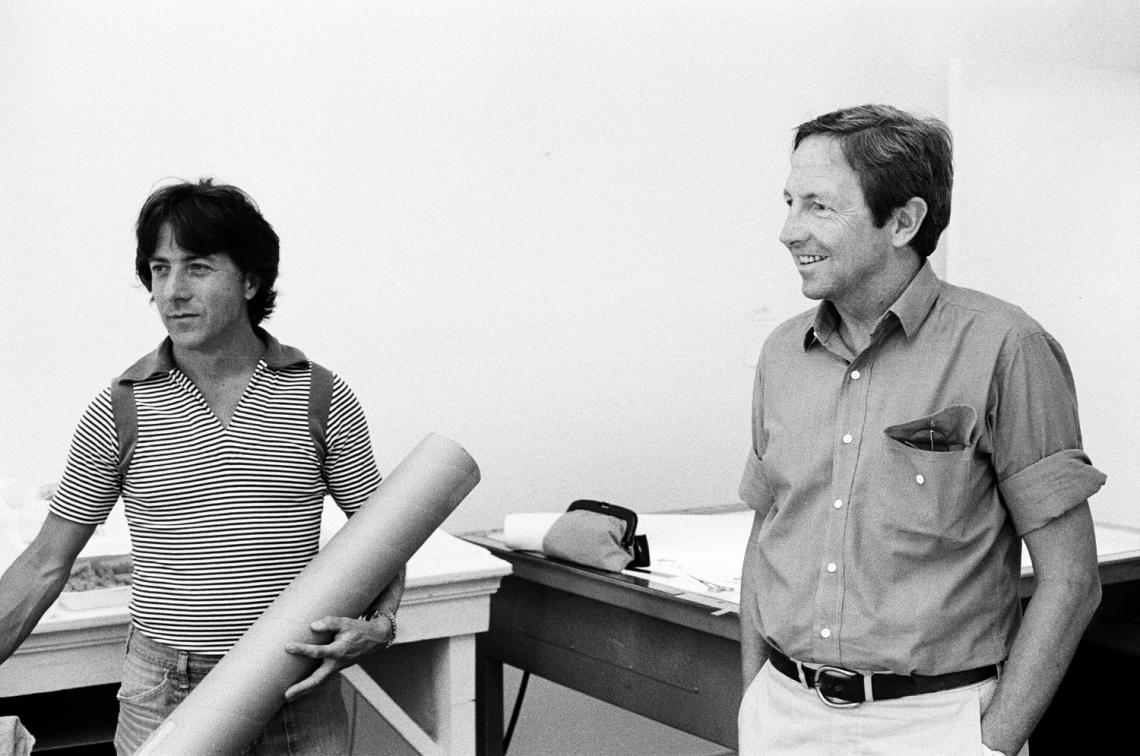 with Dustin Hoffman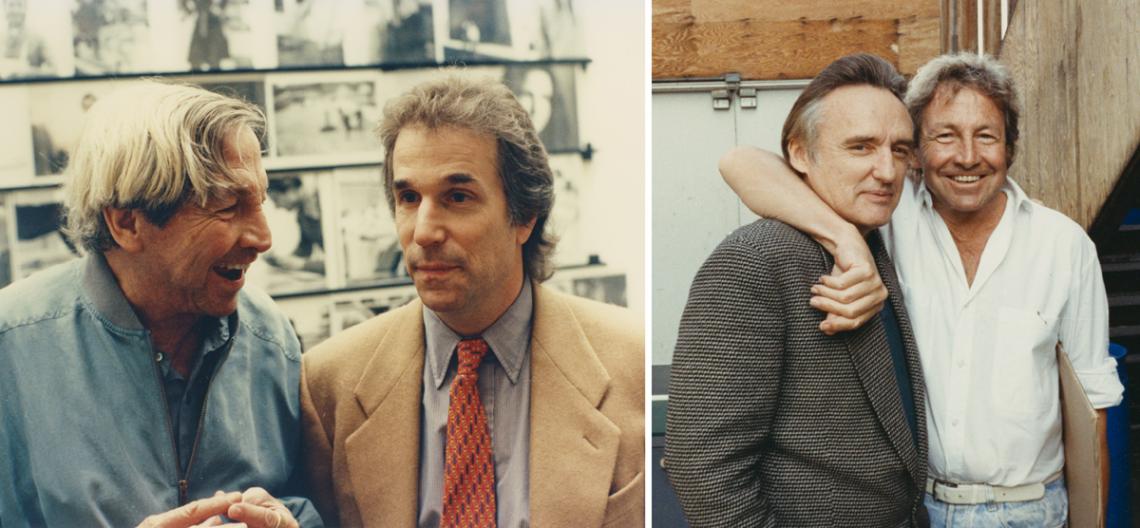 in Sidney's office, with Henry Winkler (aka 'The Fonz'), in the Gemini courtyard, with Dennis Hopper
Bob was a worldly traveler.  His Gemini projects took him to France, for Pages and Fuses, to India, for Bones & Unions, to China for 7 Characters, and to the Samarkand region for Samarkand Stitches.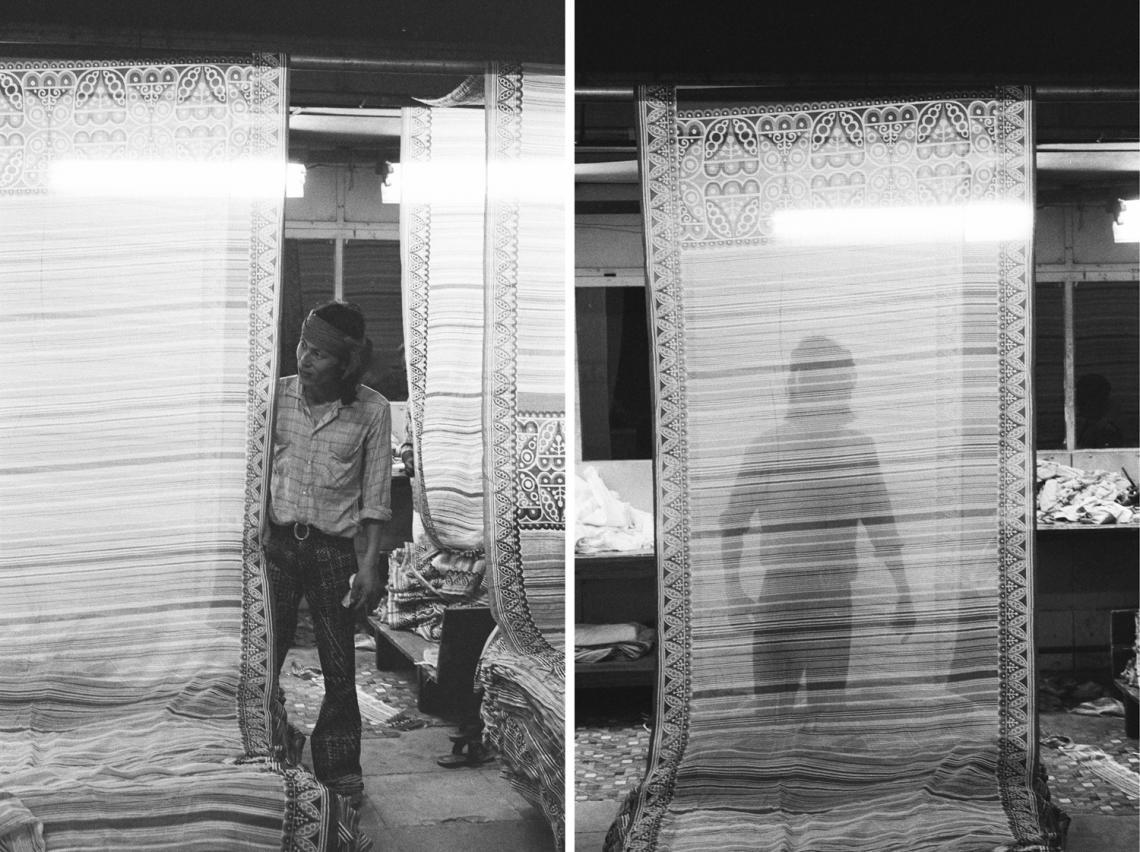 From all of his travels, Bob returned with objects and materials that would ultimately find their way into his art.  The silks of India had a profound effect on Bob, leading to his Hoarfost series but also deepening his appreciation for fabrics and fashion.  How Bob loved clothes!  Sidney and Bob and Joni spent many hours together in Barneys Beverly Hills or Maxfields in West Hollywood, looking for the most exotic or unusual attire.  He once surprised Joni with a gift of a dress that he said looked like grass (and it did!).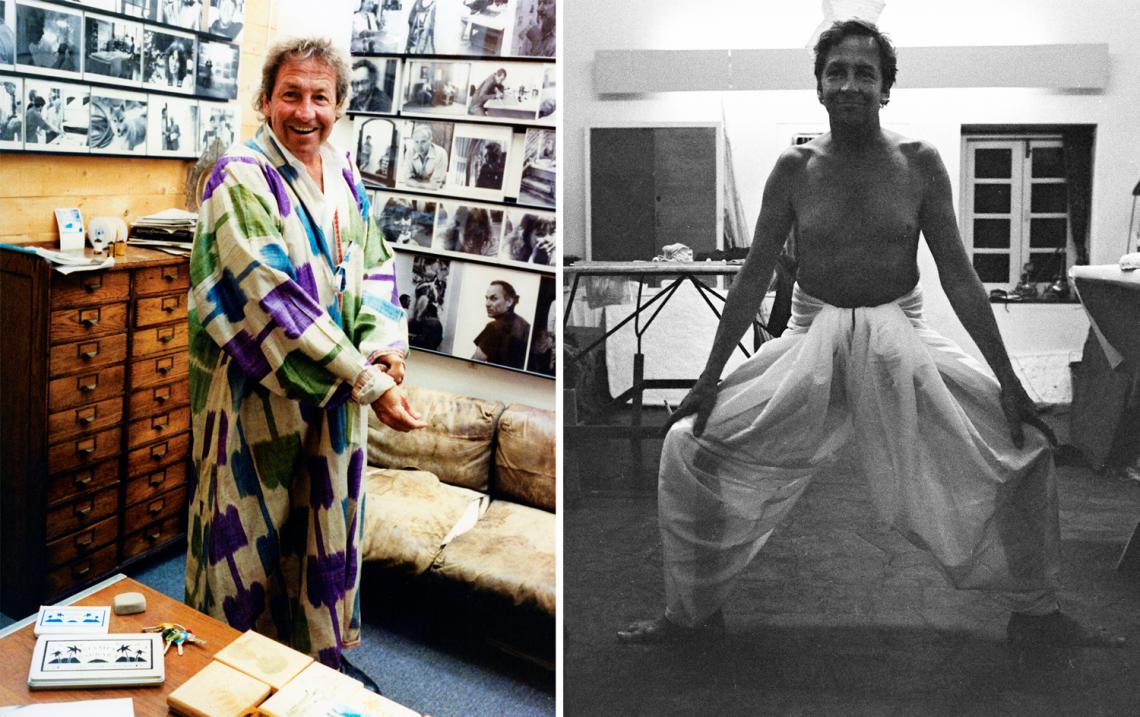 Bob was a part of the Gemini "family" – and most personally for us – a part of the Felsen Family from the moment he arrived at Gemini in 1966 until the day he died in May 2008.  A lifelong friend, he attended Joni's and Sidney's wedding, generously hosted by the Grinstein family at their residence in Brentwood, where many artworld parties were held.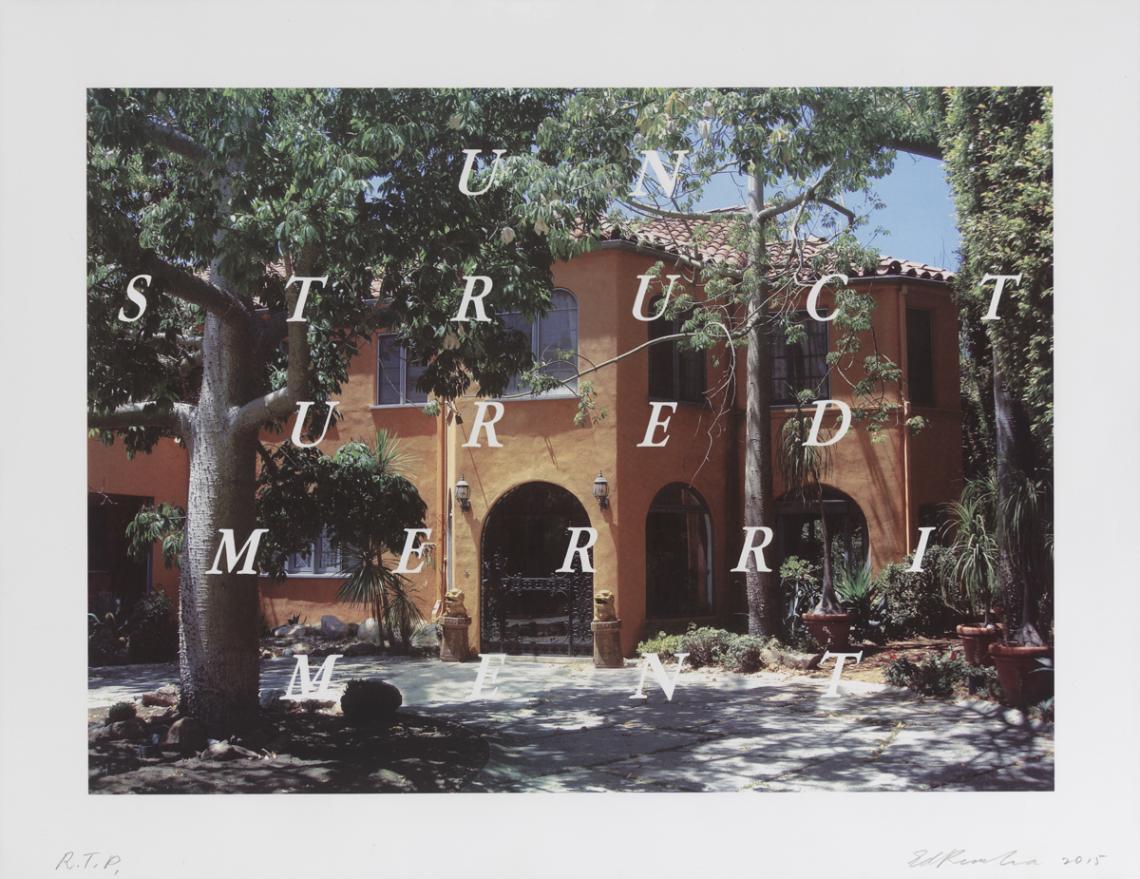 the Grinstein house, in Ed Ruscha's Unstructured Merriment (2016)
Timed to coincide with an opening at MoCA Los Angeles and the inaugural (now-defunct) Los Angeles Art Fair, it was attended by over 300 artworld friends, clients and artists.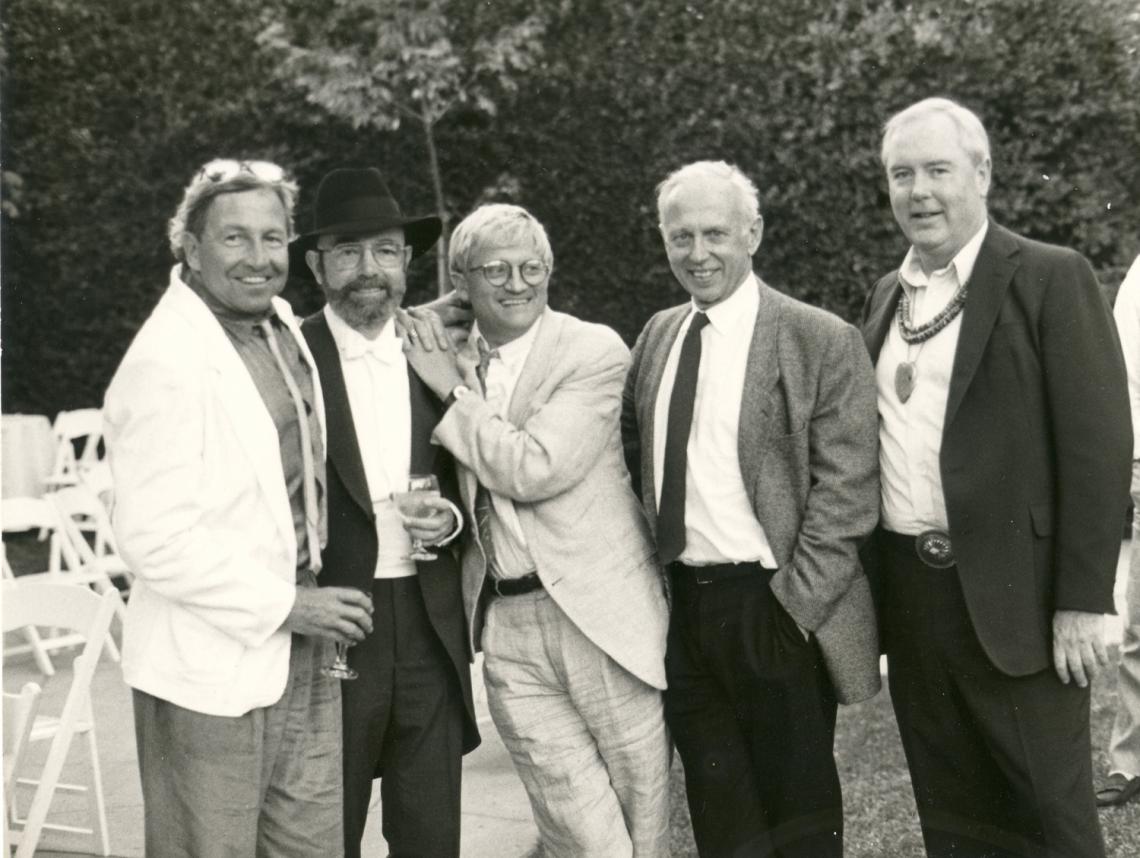 left-to-right: Bob, Sidney, David Hockney, Ellsworth Kelly, Dan Flavin
Ever the romantic, most memorably, Bob snuck away during the reception festivities to spread hundreds of rose petals onto Joni and Sidney's wedding bed in the penthouse suite at the Chateau Marmont.  In a pre-cell phone era and with no camera at hand, fortunately, Bob's companion snapped a photo of what otherwise only would have lived on in the memory of the extraordinary perfume experienced by the newlyweds.

We can't stop but think how Bob would have reacted to this "new norm" in which we find ourselves.  Bob derived his energy and inspiration from the people with whom he lived, loved, worked and traveled.  But this much we know, he would have given the world a bear-hug in whatever way he could to help us navigate these difficult days.  He may not be here to do it in person, but we have his art to remind us of our beautiful world, which we will soon begin to rediscover with renewed purpose and fresh eyes.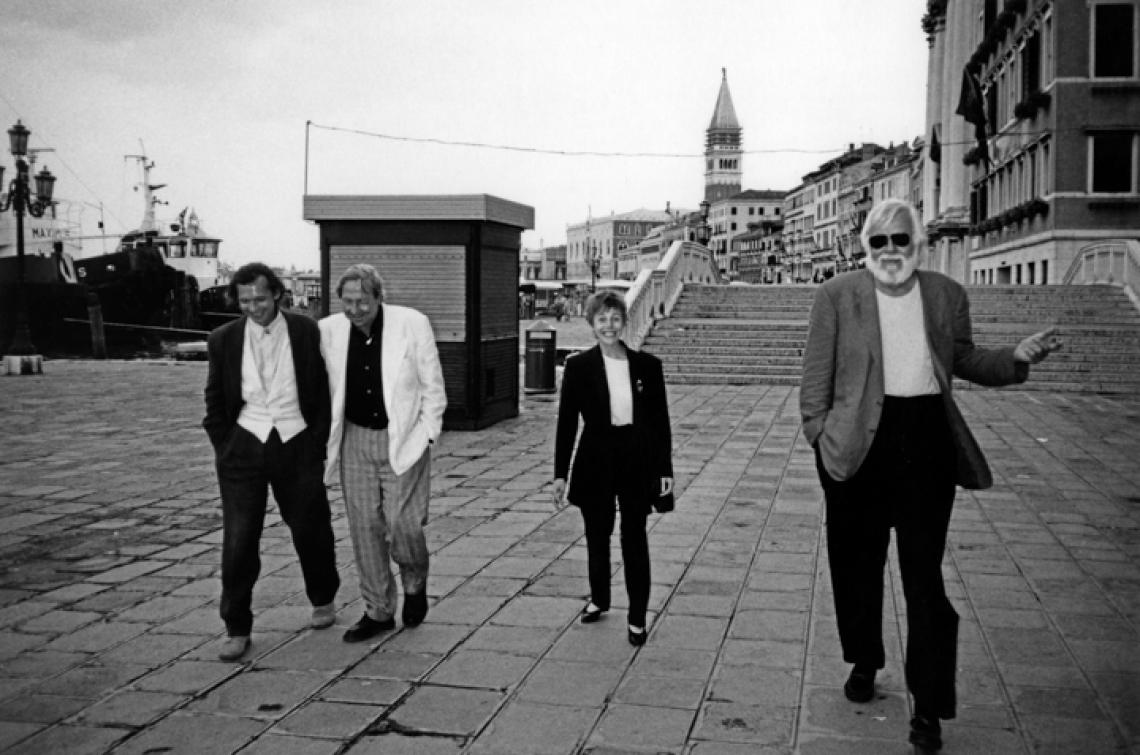 strolling along the Grand Canal in Venice: Darryl Pottorf, Bob, Joni, John Baldessari